10 Tools for Parenting Happy, Healthy Children
| | | |
| --- | --- | --- |
| | 9 of 11 | |
Show Them That Broccoli Can Be Fun
---
If you feel there's a lot to do to get your children's lifestyle as healthy as you would like, take it in stages. Set yourself a time-line—maybe decide to get their diet healthier by the end of May, and then spend the summer getting them into the habit of spending more time outdoors. Don't set yourself an impossible target, but do have a clear plan to keep yourself and the family on course.
More: Set Up Healthy Patterns
Next: Give Them Each Other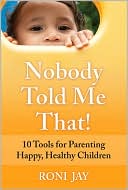 From Nobody Told Me That! 10 Tools for Parenting Healthy, Happy Children Copyright © 2009, FT Press. Used by permission of FT Press, and Pearson Education. All rights reserved.
To order this book go to Amazon.