Essential Rules of Parenting: Raising Teenagers Successfully
When your child becomes a teenager, you're well over halfway through the job of raising them, and you have only a few years left to instill all those values and principles you want them to go into adult life with. And suddenly, they look as if they're throwing away all the work you've put in up to now.
But actually, if you just keep your head, and follow these essential teenage Rules, you'll find you come out the other end with a terrific adult you can really be proud of.
(Excerpted from "The Rules of Parenting" by Richard Templar)
| | | |
| --- | --- | --- |
| Previous | 1 of 6 | |
Remember Newton's Third Law
---
The thing is, you love your kids desperately. So it's incredibly hard to watch them making mistakes that you think will come back to bite them later on. Over the years you've gotten used to letting them make small mistakes -- helping themselves to too much pudding or riding their bike too fast downhill. As time goes on, the mistakes get bigger.
So now you have to watch them drink too much at their friend's party or wear clothes that are far too low-cut (or high-cut). Maybe you even have to stand back when they decide to leave school at 16, when you'd hoped they go to college or lose a brilliant Saturday job because it's too much effort getting up in the morning. It's a much bigger deal than letting your 2-year-old take too much pudding. The stakes are getting higher.
Unless your child is putting themselves in serious danger, you really do have to put up with it. Sometimes even if it's dangerous, you have no choice. The more you try to tell them, the more you push them in the opposite direction. They're looking for something to kick at, to rebel against, because they're programmed to. The more force you use, the more they'll use.
Remember Newton's third law of motion? For every action there is an equal and opposite reaction. He could equally well have called it the first law of teenagers.
So what can you do when you see them going wrong? You can tell them what you think, but don't tell them what to do. And tell them in the way you'd tell a grown-up and an equal. Not, "I'll tell you what I think! I think you're a fool!" More along the lines of, "It's your decision, but have you thought how you'll fund your senior trip if you spend your money on this?" Talk to them like an adult and maybe they'll respond like an adult. And if not this time, maybe next time. They'll certainly be quicker to ask your advice if they know it will be given as an equal.
More on: Teen Behavior and Discipline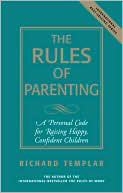 From The Rules of Parenting Copyright © 2008, FT Press. Used by permission of FT Press, and Pearson Education. All rights reserved.
To order this book go to Amazon.