Essential Rules of Parenting: Raising Teenagers Successfully
| | | |
| --- | --- | --- |
| | 2 of 6 | |
Don't Look Under the Mattress
---
Teenagers are up to things you don't want to know about. Of course, you do know about them really, which is why you're worried. If you were entirely ignorant, you'd be much happier.
Look, take it from me, your daughter has gone further than you'd like with her boyfriend. Your son uses porn magazines. They've both tried at least a drag of a cigarette by now. And they've almost certainly been offered drugs, but they won't have any evidence of it hanging around in their room, so there's no point looking. Happy? Good. Now you don't need to look under the mattress or read their secret diary.
You're not going to find anything that thousands of parents before you haven't found. In fact, you're probably not going to find anything that your own parents didn't find. And what are you going to do about it -- confront them? I think not. You'll severely damage your relationship, and they'll just keep them under the floorboards instead.
Maybe you should think back to the things you did as a teenager that you didn't want your parents to know about. Maybe you do things nowadays that you'd rather not tell your parents. See? Your kids are just being perfectly normal teenagers. And if you don't make a big deal out of all those perfectly normal teenagery things they're up to, they're much more likely to come and tell you if anything gets out of hand or is a real problem for them. And that's the important point. If you act like all that stuff under the mattress is normal, they'll feel they can talk to you without fear of an irrational response.
More on: Teen Behavior and Discipline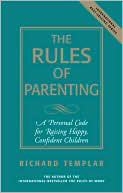 From The Rules of Parenting Copyright © 2008, FT Press. Used by permission of FT Press, and Pearson Education. All rights reserved.
To order this book go to Amazon.