Essential Rules of Parenting: Raising Teenagers Successfully
| | | |
| --- | --- | --- |
| | 3 of 6 | |
Running After Them Doesn't Help Anybody
---
You started off with 18 years and counting. How many have you got left? Because when you get to zero, they'll be on their own. That means they'll have to know how to shop, cook, clean, and straighten up (up to a point anyway), do their own washing, pay their bills, stay in the black, and all the rest of it.
I know parents -- and without wanting to be sexist here it's almost always mothers -- who are still looking after their kids when they're 18. And the kids, not being crazy, let them do it. In fact, I have one friend who is 35 and still takes his washing to his mother's. I don't mean he borrows his mother's washing machine, which might be understandable; I mean he hands the washing to his mother and leaves her to get on with it. It takes two to play that game.
You're counting down the last few years now to independence. And if your child hits 18 never having used a washing machine or cooked a decent meal, is that really fair for them? They may not realize what a handicap it will be, but you know perfectly well, as a Rules parent, that pampering a child doesn't prepare them for the real world.
You know your child's strengths and weaknesses as well as anyone. So think through what they still need to learn, and make sure they do. If they're hopeless with money, teach them to budget. Get them to do the family shopping for a week on your usual budget, or get firm about not paying to fill up their car beyond the agreed amount.
More on: Teen Behavior and Discipline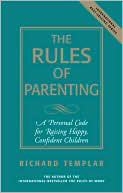 From The Rules of Parenting Copyright © 2008, FT Press. Used by permission of FT Press, and Pearson Education. All rights reserved.
To order this book go to Amazon.