Essential Rules of Parenting: Raising Teenagers Successfully
| | | |
| --- | --- | --- |
| | 4 of 6 | |
Show Some Respect for the Things They Care About
---
I know a man who started to develop psychological problems as a teenager. He used to spend as much time as he could in his bedroom listening to music, which was the one thing that gave him pleasure. As time went on, things became worse. Even after he'd left home, the problems continued. Many years later, he said a very interesting thing. He explained that one of the biggest blows to his confidence was the way his parents used to complain about the awful music he listened to.
You see, when you criticize your teenager's choices, you criticize them. It's an age of fragile egos and easily knocked self-esteem, and it's easy to make your teenager feel that you disapprove, or even that you don't like them. Whether it's their music or their politics or the way they dress or their decision to become vegetarian, they need to know that it's okay with you.
It's one of the many paradoxes of teenagers. On the one hand, they want to rebel, to shock you, to do things that get to you, and on the other hand, they want your approval and your goodwill. I know it's confusing for you, but it's worse for them. They're trapped inside minds and bodies that are trying to make the transition from dependent child to independent adult, and they don't know what they want themselves half the time. One minute they want to grow up as fast as possible, and the next it's all getting too scary, and they want to slow down. You just have to accept it and go with the flow.
More on: Teen Behavior and Discipline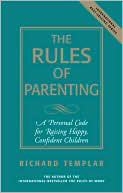 From The Rules of Parenting Copyright © 2008, FT Press. Used by permission of FT Press, and Pearson Education. All rights reserved.
To order this book go to Amazon.