Voting Rights After Shelby v Holder
States move to tighten voting rules after Supreme Court ruling on Voting Rights Act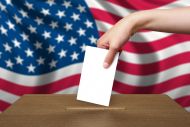 Related Links
In June 2013, the Supreme Court struck down Section 4 of the Voting Rights Act, which established a formula for Congress to use when determining if a state or voting jurisdiction requires prior approval before changing its voting laws. Currently under Section 5 of the act nine—mostly Southern—states with a history of discrimination must get clearance from Congress before changing voting rules to make sure racial minorities are not negatively affected. While the 5-4 decision in Shelby County v. Holder did not invalidate Section 5, it made it toothless. Chief Justice John Roberts said the formula Congress now uses, which was written in 1965, has become outdated. "While any racial discrimination in voting is too much, Congress must ensure that the legislation it passes to remedy that problem speaks to current conditions," he said in the majority opinion. In a strongly worded dissent, Judge Ruth Bader Ginsburg said, "Hubris is a fit word for today's demolition of the V.R.A." (Voting Rights Act).
States Quickly Pass Restrictive Voting Laws
Fallout from the ruling was swift, with several states quickly moving to change their voting laws. Texas unveiled a redistricting plan and enacted a law that requires voters to present identification before casting a ballot.
North Carolina passed the nation's most restrictive voting law in August. The law contains dozens of measures that will certainly discourage voting. The most draconian provisions included: requiring a photo ID to vote, banning counties from extending voting hours due to extraordinary events, eliminating pre-registration for 16- and 17-year-olds, eliminating the state's same-day voter registration program, no longer allowing provisional voting if someone goes to the wrong precinct, shortening the early-voting period, doing away with the same-day registration program, and instituting a photo identification requirement.
In addition, Alabama, Mississippi, Virginia, and South Carolina-all states that are required to seek pre-clearance before changing their laws under Section 5 of the Voting Rights Act-all passed laws requiring photo IDs to vote.
U.S. Justice Department Intervenes
The U.S. Justice Department signaled it would intervene as necessary to protect voting rights.
"Even as Congress considers updates to the Voting Rights Act in light of the Court's ruling, we plan, in the meantime, to fully utilize the law's remaining sections to ensure the voting rights of all American citizens are protected," Attorney Eric Holder said in a speech. "My colleagues and I are determined to use every tool at our disposal to stand against discrimination wherever it is found."
U.S. Attorney General followed through on his pledge to protect minority voters. In August, he announced that the Justice Department was joining a lawsuit against the Texas redistricting plan and filing a lawsuit challenging the voter-ID law. The suits said that Texas has a history of discriminating against minorities and requested that a federal judge require that the state seek pre-clearance from the government before changing the state's voting laws. The lawsuits cite Section 2 of the Voting Rights Act, which bans discrimination in voting rules. In cases involving Section 2, the plaintiff must prove discrimination exists, making them difficult to win. The Justice Department also challenged several provisions of North Carolina's law in a suit filed in late September.