World's Tallest Buildings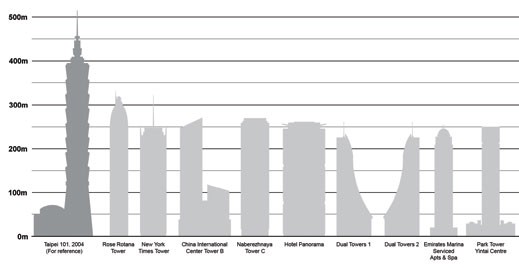 Building
City (country)
Height
Stories
Year
Composition
Use
Rank
m
ft
1.
Burj Khalifa
Dubai (AE)
828
2717
163
2010
steel-concrete
office / residential / hotel
2.
Makkah Royal Clock Tower Hotel
Mecca (SA)
601
1972
120
2012
steel-concrete
other / hotel / multiple
3.
Taipei 101
Taipei (TW)
508
1667
101
2004
composite
office
4.
Shanghai World Financial Center
Shanghai (CN)
492
1614
101
2008
composite
hotel / office
5.
International Commerce Centre
Hong Kong (CN)
484
1588
108
2010
composite
hotel / office
6.
Petronas Tower 1
Kuala Lumpur (MY)
452
1483
88
1998
composite
office
6.
Petronas Tower 2
Kuala Lumpur (MY)
452
1483
88
1998
composite
office
8.
Zifeng Tower
Nanjing (CN)
450
1476
66
2010
composite
hotel / office
9.
Willis Tower
Chicago (US)
442
1451
108
1974
steel
office
10.
KK100
Shenzhen (CN)
442
1449
100
2011
composite
hotel / office
11.
Guangzhou International Finance Center
Guangzhou (CN)
439
1439
103
2010
composite
hotel / office
12.
Trump International Hotel & Tower
Chicago (US)
423
1389
98
2009
concrete
residential / hotel
13.
Jin Mao Tower
Shanghai (CN)
421
1380
88
1999
composite
hotel / office
14.
Princess Tower
Dubai (AE)
413
1356
101
2012
steel-concrete
residential
15.
Al Hamra Tower
Kuwait City (KW)
413
1354
80
2011
concrete
office
16.
Two International Finance Centre
Hong Kong (CN)
412
1352
88
2003
composite
office
17.
23 Marina
Dubai (AE)
393
1289
90
2012
concrete
residential
18.
CITIC Plaza
Guangzhou (CN)
390
1280
80
1996
concrete
office
19.
Shun Hing Square
Shenzhen (CN)
384
1260
69
1996
composite
office
20.
Empire State Building
New York City (US)
381
1250
102
1931
steel
office
21.
Elite Residence
Dubai (AE)
380
1248
87
2012
concrete
residential
22.
Central Plaza
Hong Kong (CN)
374
1227
78
1992
concrete
office
23.
Bank of China Tower
Hong Kong (CN)
367
1205
72
1990
composite
office
24.
Bank of America Tower
New York City (US)
366
1200
55
2009
composite
office
25.
Almas Tower
Dubai (AE)
360
1181
68
2008
concrete
office
25.
The Pinnacle
Guangzhou (CN)
360
1181
60
2012
concrete
office
27.
JW Marriott Marquis Hotel Dubai Tower 1
Dubai (AE)
355
1166
82
2012
concrete
hotel
27.
JW Marriott Marquis Hotel Dubai Tower 2
Dubai (AE)
355
1166
82
2013
concrete
hotel
29.
Emirates Tower One
Dubai (AE)
355
1163
54
2000
composite
office
30.
Tuntex Sky Tower
Kaohsiung (TW)
348
1140
85
1997
composite
hotel / office
31.
Aon Center
Chicago (US)
346
1136
83
1973
steel
office
32.
The Center
Hong Kong (CN)
346
1135
73
1998
steel
office
33.
John Hancock Center
Chicago (US)
344
1128
100
1969
steel
residential / office
34.
Tianjin Global Financial Center
Tianjin (CN)
337
1105
75
2011
composite
office
35.
The Torch
Dubai (AE)
337
1105
79
2011
concrete
residential
36.
Keangnam Hanoi Landmark Tower
Hanoi (VN)
336
1102
72
2012
concrete
hotel / residential / office
37.
Shimao International Plaza
Shanghai (CN)
333
1094
60
2006
concrete
hotel / office
38.
Rose Rayhaan by Rotana
Dubai (AE)
333
1093
71
2007
composite
hotel
39.
Minsheng Bank Building
Wuhan (CN)
331
1086
68
2008
steel
office
40.
China World Tower
Beijing (CN)
330
1083
74
2010
composite
hotel / office
41.
Longxi International Hotel
Jiangyin (CN)
328
1076
72
2011
composite
residential / hotel
42.
The Index
Dubai (AE)
326
1070
80
2010
concrete
residential / office
43.
The Landmark
Abu Dhabi (AE)
324
1063
72
2013
concrete
residential / office
43.
Deji Plaza Phase 2
Nanjing (CN)
324
1063
62
2013
composite
office
45.
Q1 Tower
Gold Coast (AU)
323
1058
78
2005
concrete
residential
46.
Wenzhou Trade Center
Wenzhou (CN)
322
1056
68
2011
concrete
hotel / office
47.
Burj Al Arab
Dubai (AE)
321
1053
56
1999
composite
hotel
48.
Nina Tower
Hong Kong (CN)
320
1051
80
2006
concrete
hotel / office
49.
Chrysler Building
New York City (US)
319
1046
77
1930
steel
office
50.
New York Times Tower
New York City (US)
319
1046
52
2007
steel
office
51.
HHHR Tower
Dubai (AE)
318
1042
72
2010
concrete
residential
52.
Bank of America Plaza
Atlanta (US)
317
1040
55
1993
composite
office
53.
U.S. Bank Tower
Los Angeles (US)
310
1018
73
1990
steel
office
54.
Ocean Heights
Dubai (AE)
310
1017
83
2010
concrete
residential
54.
Menara Telekom
Kuala Lumpur (MY)
310
1017
55
2001
concrete
office
56.
Pearl River Tower
Guangzhou (CN)
309
1015
71
2012
composite
office
57.
Emirates Tower Two
Dubai (AE)
309
1014
56
2000
concrete
hotel
58.
Cayan Tower
Dubai (AE)
307
1008
73
2013
concrete
residential
59.
Franklin Center - North Tower
Chicago (US)
307
1007
60
1989
composite
office
60.
The Shard
London (GB)
306
1004
73
2013
composite
residential / hotel / office
61.
JPMorgan Chase Tower
Houston (US)
305
1002
75
1982
composite
office
62.
Etihad Towers T2
Abu Dhabi (AE)
305
1002
80
2011
concrete
residential
63.
Northeast Asia Trade Tower
Incheon (KR)
305
1001
68
2011
composite
residential / hotel / office
64.
Baiyoke Tower II
Bangkok (TH)
304
997
85
1997
concrete
hotel
65.
Two Prudential Plaza
Chicago (US)
303
995
64
1990
concrete
office
66.
Leatop Plaza
Guangzhou (CN)
303
993
64
2012
composite
office
67.
Wells Fargo Plaza
Houston (US)
302
992
71
1983
steel
office
68.
Kingdom Centre
Riyadh (SA)
302
992
41
2002
steel-concrete
residential / hotel / office
69.
The Address
Dubai (AE)
302
991
63
2008
concrete
residential / hotel
70.
Capital City Moscow Tower
Moscow (RU)
302
990
76
2010
concrete
residential
71.
Doosan Haeundae We've the Zenith Tower A
Busan (KR)
300
984
80
2011
concrete
residential
71.
Arraya Tower
Kuwait City (KW)
300
984
60
2009
concrete
office
71.
Aspire Tower
Doha (QA)
300
984
36
2007
composite
hotel / office
74.
First Bank Tower
Toronto (CA)
298
978
72
1975
steel
office
74.
One Island East
Hong Kong (CN)
298
978
68
2008
concrete
office
76.
Eureka Tower
Melbourne (AU)
297
975
91
2006
concrete
residential
77.
Comcast Center
Philadelphia (US)
297
974
57
2008
composite
office
78.
Landmark Tower
Yokohama (JP)
296
972
73
1993
steel
hotel / office
79.
Emirates Crown
Dubai (AE)
296
971
63
2008
concrete
residential
80.
Khalid Al Attar Tower 2
Dubai (AE)
294
965
66
2011
concrete
hotel
81.
311 South Wacker Drive
Chicago (US)
293
961
65
1990
concrete
office
82.
Sky Tower
Abu Dhabi (AE)
292
959
74
2010
concrete
residential / office
83.
Haeundae I Park Marina Tower 2
Busan (KR)
292
958
72
2011
composite
residential
84.
SEG Plaza
Shenzhen (CN)
292
957
71
2000
concrete
hotel / office
85.
70 Pine Street
New York City (US)
290
952
67
1932
steel
office
86.
Key Tower
Cleveland (US)
289
947
57
1991
composite
office
87.
Shaoxing Shimao Crown Plaza
Shaoxing (CN)
288
946
60
2012
composite
hotel / office
88.
Plaza 66
Shanghai (CN)
288
945
66
2001
concrete
office
89.
One Liberty Place
Philadelphia (US)
288
945
61
1987
steel
office
90.
Yingli International Finance Centre
Chongqing (CN)
288
945
58
2012
concrete
office
91.
Millennium Tower
Dubai (AE)
285
935
59
2006
concrete
residential
92.
Sulafa Tower
Dubai (AE)
285
935
75
2010
concrete
residential
93.
Tomorrow Square
Shanghai (CN)
285
934
60
2003
composite
residential / hotel / office
94.
Columbia Center
Seattle (US)
284
933
76
1984
composite
office
95.
Trump Ocean Club International Hotel & Tower
Panama City (PA)
284
932
70
2011
concrete
residential / hotel
95.
Three International Finance Center
Seoul (KR)
284
932
55
2012
composite
office
97.
Chongqing World Trade Center
Chongqing (CN)
283
929
60
2005
concrete
office
98.
Cheung Kong Centre
Hong Kong (CN)
283
928
63
1999
steel
office
99.
The Trump Building
New York City (US)
283
927
71
1930
steel
office
100.
Suzhou RunHua Global Building A
Suzhou (CN)
282
925
49
2010
composite
office
NOTE: When a building is "topped out" (the point of construction when the structure has met its proposed structural top), the building is officially ranked and is placed on the list. UC indicates under construction: although the building has been "topped out," construction has not been completed. Height is measured from sidewalk level of main entrance to structural top of building. This includes spires, but does not include antennas or flagpoles.
Source: Council on Tall Buildings and Urban Habitat, Lehigh University.
See also Tallest Buildings in the World Slideshow, World's Tallest Towers (towers are NOT included in the table above), Top Ten Tallest Completed Building Projects, 2006, and Architects
Information Please® Database, © 2007 Pearson Education, Inc. All rights reserved.
World's Tallest Buildings