Savings Quick Tips: Don't Let Them Cell You a Bad Plan
Coordinate plans. If you regularly talk on the phone to the same friends and family members, try to get everybody on the same network. Using plentiful in-network minutes instead of valuable anytime-any network minutes may allow you to drop down a tier of service and pay less.
Prepay. You are not stuck signing a cell-phone contract. Pay-as-you-go prepaid wireless plans continue to improve, as providers offer cheaper phones and lower rates. Traditional post-paid wireless service remains cheaper per minute, but that assumes you use all the minutes. Post-paid rapidly becomes more expensive if you have dozens or even hundreds of unused minutes every month. Another advantage is that prepaid minutes already include the fees, surcharges, and taxes that show up as separate line items on your wireless bill and add 20% to 30% to the bottom line. That further closes the per-minute price gap between prepaid and post-paid. For lighter users of mobile phonesâ€"those who use less than 200 or even 300 minutes per monthâ€"prepaid service may well be the less expensive choice. Check out the company Tracfone and such usual carriers at T-Mobile and Verizon. Beware that prepaid minutes can expire in as few as 30 days. Leftover minutesâ€"and the money that purchased themâ€"are wasted, just as minutes in most traditional plans are wiped out and renewed each month. Typically, the more minutes you buy with prepaids, the longer the minutes live.
Accessorize online. Shop for car chargers, hands-free sets, leather cases, and extra batteries at online stores or auction sites, such as eBay. Prices are much lower than at wireless retail stores. Be aware that some of the accessories may not be from the original manufacturer and may be lower quality, but most cheap car-chargers, for example, do the job well.
Get your company to pay for it. If you often use your personal wireless phone for business calls, make a case to your boss for getting a company cell phone. Or try to arrange some type of reimbursement plan for business calls made on your personal phone.
Shop around. Compare your plan with competitors and consider switching. You can now keep the same phone number when you switch. But while you could save upwards of $20 a month for similar plans, don't compare on price alone. A service plan is virtually worthless if the new provider has spotty coverage in your area and you're constantly dropping calls or getting no signal. Use the carrier's free trial period to determine whether service works where you need it.
Ringtones. If you change ringtones frequently, it could get expensive. It costs more to download a 20-second ringtone from a song, often $2 or $3, than it does to download the entire song, often 99 cents. But you can make your own ringtone for free by using software to create an audio clip from a song on your computer and transferring it to your phone, assuming it supports MP3 ringtones. You transfer the file by USB cord, via Bluetooth wireless connection, or as an e-mail or text-message attachment. Many tutorials on the Internet explain how to do this. Many Web sites, such as mobile17.com, facilitate the process for free, and paid software can make it easier too. While do-it-yourself ringtones are much cheaper, realize that if you want just a few new tones, paying for them is a lot less hassle.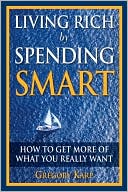 From Living Rich by Spending Smart Copyright © 2008, FT Press. Used by permission of FT Press, and Pearson Education. All rights reserved.
To order this book go to Amazon.