The Natural Progression of Your Child's Communication
Ages Six to Nine
Kids in this age group love to regale you with their stories. They have active imaginations and the capability of adding drama through action and expression. They like to laugh and make others laugh; therefore, jokes become a favorite form of entertainment. Their vocabulary grows as their reading skills improve. Before you know it, you may have to start looking up words in the dictionary in order to converse with them!
Ages Ten to Twelve
Kids in this age group are capable of learning the art of conversation. They have enough knowledge about the world around them and the vocabulary to enjoy a good conversation with you that isn't about when they need to complete their chores. Dinnertime is an excellent opportunity to enjoy such talks. You can start them out with "What did you learn today?"
Alert!
Never talk back to your child. There is no room for a snipping and yelling match between parent and child. Although the frustration of dealing with a child who is talking back can become overwhelming, remember that you are the adult.
Children in this age group tend to have problems with back talk. While this may drive you crazy, know that there are reasons behind this behavior. Back talk happens when your child is having strong emotions that he isn't able to express in an appropriate manner. To dissuade back talk, wait until your child is calm and come up with a plan together. Use I-messages to tell your child how his back talk makes you feel and then ask him what he thinks he could do instead of talking back to you. Offer suggestions and then agree on a solution.
Ages Thirteen to Seventeen
Teenagers are capable of having adult-like conversations, although they will want to have them with their friends instead of with you. You may at some point feel as if you need to stand on your head to get more than two words out of them. This is part of the normal adolescent life stage. But don't stop trying. Keep those lines of communication open and remain available to them for when they need to talk to you. They will, and it will be when you least expect it.
While conversations about tough issues can happen at any time in your child's life, as children in this age group near adulthood, they are more frequent. The single, best piece of advice is to prepare yourself long before having any of these conversations. Know that you are not alone in the situation. Many parents have gone through and will go through the same type of conversations you are having. This is the age where not-quite-children-anymore and not-quite-adults make dire mistakes in judgment. It's normal behavior to do this. Keep the lines of communication open. That is the single most important thing you need to do for them at this time.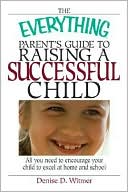 From The Everything Parent's Guide to Raising a Successful Child Copyright © 2004, F+W Publications, Inc. Used by permission of Adams Media, an F+W Publications Company. All rights reserved.
To order this book go to Amazon.