Petting and Handling Dogs
Repetition of calm behaviors is one of the building blocks to a healthy and happy relationship with your dog.
It's a dangerous world out there and it's important to recognize that uninvited hands or faces reaching down toward a dog's head are seen, from the dog's perspective, as being aggressive. As a consequence, a large percentage of dog bites happen to children because children enthusiastically push themselves abruptly into a dog's face. You don't have to just "put up with" your dog's dislike of handling—you can train him to love it.
Here's That Word Again: Desensitization
You think that your dog needs to be bathed and brushed, and she thinks otherwise. She bites you or the brush, or she may not even let you get that far—she may run away at the sight of anything that even looks like a grooming implement. And toenail clipping? Forget about it!
The first step to teaching your dog how to handle unwanted attention with a minimum of stress is to begin the process of desensitization. An additional side benefit is that as you "work" with your dog in this way, you build a level of trust and establish a kind of communication that makes your training with her easier as you move into more advanced levels. Before starting these sessions, you must first practice the behaviors (priming the clicker, "Sit," "Down," "Stand," and eye contact) in Getting Started with Dog Training.
Training Your Dog to Accept Touching
The goal of this exercise is to reinforce no movement from the dog while you touch him. Start your session by giving your dog a few treats to get his attention. Break the training session into two or three sessions of approximately five minutes each. Keep your sessions short and successful—just a few minutes at a time, as many times per day as you can fit in. Be sure to include all family members in the touching sessions—not all at once, but one at a time.
Position your body so that you're facing in the same direction as your dog. This is usually seen as nonthreatening and may actually be calming to your dog.
Try not to lean over him. Some dogs may experience leaning over them as dominating, intimidating, aggressive, or scary. Possible reactions to this are backing away, jumping up to your face, lowering of their heads in submission, or in extreme cases, biting.
Now follow these "basic recipe" steps:
Pooch Pointers
If you feel all thumbs, have someone help you. One of you can click for no movement and the other person can touch and then feed once he or she hears the click.
Pooch Pointers
When picking up feet, especially a back one, remember that dogs don't naturally know how to stand on three legs. Place your other hand gently under her belly to give her some support. Once the pup gets the hang of it, you won't need to help her keep from falling over.
Have a treat in one hand and hold it out about 12 to 30 inches from your dog's face. You don't want to tease the dog—just get her focus on the treat.

Place your other hand along the dog's neck—not petting, just a soft touch.

If the dog doesn't move, click and give her a treat. At the same time, remove your other hand from her neck. (Have the clicker and treat in the same hand—don't try to pet with food in your hand.)

If the dog does move, stop what you're doing and just start again.

Repeat about 10 times or until the dog is feeling comfortable and is consistently not moving.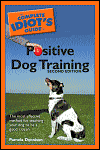 Excerpted from The Complete Idiot's Guide to Positive Dog Training © 2005 by Pamela Dennison. All rights reserved including the right of reproduction in whole or in part in any form. Used by arrangement with Alpha Books, a member of Penguin Group (USA) Inc.
To order this book visit the Idiot's Guide web site or call 1-800-253-6476.