Knowing Your Dog's Breed Heritage
Knowing your dog's breed can tell you a lot about him. If he is a herding, sporting, or hunting breed, he's going to like chasing things that move. The northern breeds are driven to run and pull. Terriers love to stick their noses in holes to find little critters. All of this knowledge can help you tailor a training program to your dog—and make your training more successful.
If you have a mixed-breed dog, breed research is a little harder. Sometimes you have to guess, depending on your dog's physical characteristics as well as his personal traits. Is he built like a Golden Retriever but is marked like a German Shepherd? Or does he look like a Beagle but has wiry hair like a terrier? Study your dog, and then study other dogs. What do you see? Although you might never know for sure what your mixed breed is, you can still help your training by understanding what tendencies his breed mixture might have and who he is as an individual.
Size Does Make a Difference
Size does make a difference in trick training, and you need to take it into account as you set your training goals. Although Molly, the Standard Poodle, is a tall dog, she is not heavy but is athletic and agile. So jumping through hoops and arms is easy for her. Although I'm sure the owner of a Newfoundland could teach his Newfie to perform the same tricks, it would not be nearly as easy, and the dog would have difficulty. Newfies are big, heavy-boned dogs bred to pull wagons and swim. Jumping is not important for their occupations. On the other hand, most toy-breed dogs excel in trick training. They might be small but most are quick and agile.
The same applies to body shape. A few years ago we had several Basset Hounds in one of our trick-training classes. Bassets are great clowns and love to wear costumes. One in particular, Gracie, always came to class wearing hats and feather boas, and they suited her perfectly. Gracie, however, was not at all athletic. She did not jump through hoops, weave through her owner's legs, or jump and weave through raised hoops. However, she did a great bow, said her prayers on command, and rolled over to bare her belly quite well.
Down Boy!
Never ask your dog to perform a trick that could cause him harm. Keep your dog safe.
As you decide which tricks to teach your dog, take into account his size and body type. Choose tricks your dog can do safely and comfortably; do not ask him to perform any tricks that could cause him to hurt himself.
Appreciating His Personality
Gracie, the Basset, loved applause. Whenever she performed a trick in front of the class, she would wait for the laughter and applause before going on to another trick. But not all dogs love the spotlight; some have stage fright. So it's important to recognize your dog for who he is and not to force him into situations that will be uncomfortable for him.
Your dog's personality will also affect how you train him. Bright, intelligent, compliant dogs will move through the training steps much more quickly than dogs who might not be as bright, are more difficult to motivate, or are easily distracted.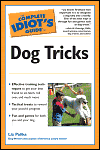 Excerpted from The Complete Idiot's Guide to Dog Tricks © 2005 by Liz Palika. All rights reserved including the right of reproduction in whole or in part in any form. Used by arrangement with Alpha Books, a member of Penguin Group (USA) Inc.
To order this book visit the Idiot's Guide web site or call 1-800-253-6476.