Vaccinations and Autism: Is There a Connection?
So all we know is that, so far, no connection has been proven for the vast majority, but nor has any connection been disproved for a subset of children who may be at risk. It is also difficult for the average person to know what the research studies we read about in the news really prove or disprove. As soon as the results of a study are published, another expert issues a statement questioning their validity or unveils a connection between the researcher and a drug company that produces vaccines.
For example, the largest study to date, a review of medical records of half a million Danish children born between 1991 and 1998 by scientists at the Danish Epidemiology Science Center, was published in the New England Journal of Medicine in November 2002. The report concluded that there was no basis for the belief that the MMR vaccine was responsible for the increase in autism cases. This led to newspaper headlines such as "Study finds no sign that child vaccine causes autism" (the Boston Globe, 9 November 2002). However, the Danish study raised several legitimate criticisms from other researchers and autism experts, including Dr. Andrew Wakefield (the autism researcher who found a potential link between the measles-mumps-rubella vaccine [MMR] and autism).
One of the criticisms involves a factor the author of the Danish study failed to mention: that they do not have the mercury-containing thimerosal in the pediatric vaccines used in Denmark, meaning that the study's findings are not applicable to the U.S. or the UK populations. Another is that the medical records reviewed were selected from psychiatric clinics and hospitals, and contained no data in regard to immune system dysfunction or inflammatory bowel disease.
What is real is the growing number of parents who have seen differences in their children before and after the MMR vaccine, and have photographs and videos that clearly document regression. This is a fact for those families that no government report will erase. Although it is true that this represents a small number of the total of children vaccinated, it should be of great concern to the medical community.
Everyone agrees on one point: that more valid, unbiased research is clearly needed. Some facts as well as areas of concern in regard to vaccinations are:
One of the theories in the U.S. is that the rise in ASDs matches the increased exposure of young children to thimerosal, a preservative containing mercury, as the number of vaccinations required has increased over time from four in the 1950s to over twenty now. In the United States there is a much more aggressive vaccination schedule than in other parts of the world, including the UK. During most of the 1990s, many American six-month-olds were exposed to a total of 187.5 micrograms of ethyl mercury through vaccination. At that time, the Environmental Protection Agency's (EPA) daily "safe" dose for methyl mercury (a related compound) was 0.1 micrograms per kilogram of body weight.
As mentioned earlier, regressive, or late-onset, autism cases currently outnumber early-onset cases by about five to one. In the 1950s,'60s and '70s, late-onset cases were almost unheard of (Autism Research Institute).
In July 1999, the American Academy of Pediatrics (AAP), chaired by Neal Halsey, M.D., the Public Health Service (PHS) agencies, and vaccine manufacturers agreed to reduce or remove thimerosal from most vaccines. This decision was based on the assumption that the health risks from methyl and ethyl mercury were the same. It is now possible to get most (if not all) of the recommended schedule of vaccinations in the U.S. without thimerosal.
There is concern in the U.S., that although thimerosal is no longer present in most vaccines, the actual number of vaccinations now required or recommended is in itself a health risk for a subset of children.
In Canada, all vaccines for routine immunization of children have been available without thimerosal since March 2001.
In the UK, thimerosal (known there as thiomersal) is currently used in some vaccines, such as the diphtheria and tetanus preschool boosters, although the MMR vaccine (triple or single) currently used in the UK does not have thimerosal as a preservative. In the autumn of 2002, the Department of Health in Britain backed the continued use of thimerosal-containing vaccines, stating that the alternative vaccines without the mercury preservative were less effective.
It has been suggested by expert panels that when the MMR triple vaccine was first introduced, not enough testing was carried out to ensure its long-term safety in regard to the interaction between multiple vaccinations and potentially fragile immune systems.
There is valid concern about the serious risk to public safety if children are not immunized. Until recently, mumps and measles were practically nonexistent, and these diseases pose serious threats to children. In the UK, the number of cases of measles has been climbing and the disease has been responsible for the deaths of some children.
There is debate about what information medical professionals should divulge to families in their care about a possible vaccine-autism connection. Government and health officials say there is no connection between vaccinations and ASDs, so that is usually the message passed on to the health consumer. Should doctors tell parents that a connection between the two has not been proved, but has not been disproved either? What constitutes "informed consent"? If a physician suggests that a child should not be vaccinated, and that child then contracts measles or mumps, he would open himself up to the risk of litigation. In the U.S., some parents have been told by their pediatricians that if they won't vaccinate their children according to the recommended schedule, then they are no longer welcome as patients in that practice.
In rare cases, the measles virus has been found in the fluid that bathes the brain and in cerebrospinal fluid. In some children, measles viruses have been found in the gut. It is theorized that these viruses cause inflammatory bowel disease, which in turn allows the peptides to cross the blood-brain barrier and affect neurotransmission, leading to some of the behaviors associated with ASDs. DNA analysis has shown that the strain of measles found in autistic children is from the vaccine, and not a wild virus.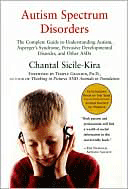 Excerpted from Autism Spectrum Disorders: The Complete Guide to Understanding Autism, Asperger's Syndrome, Pervasive Developmental Disorder, and Other ASDs©2004 by Chantal Sicile-Kira. All rights reserved including the right of reproduction in whole or in part in any form. Used by arrangement with Alpha Books, a member of Penguin Group (USA) Inc.
To order this book visit Amazon's web site.