Are You Accidentally Reinforcing Bad Dog Behavior?
Why Dogs Bark
Some dogs learn to use barking to get your attention. Many dogs bark because (it seems, anyway) they like to hear themselves talk. Shetland Sheepdogs bark at the footfall of a squirrel from two days ago. Some dogs bark out of stress, arousal, or even boredom (which can also be stressful). And some breeds, such as Beagles, Akbash, Great Pyrenees, Anatolian Shepherd Dogs, and Lhasa Apsos, were specifically bred to bark as part of their jobs (such as herding, hunting, and guarding).
Barking Solutions
Canine Caveats
Reducing or even eliminating barking from the dog's behavior repertoire is not impossible; it just isn't the easiest "bad" behavior to get rid of—especially if you've been reinforcing it in the past.
As hard as this may seem, the best thing to do is to completely ignore the dog. Walk out of the room, put earplugs in, do whatever you have to do to not react to your dog. Then after five seconds to five minutes of no barking (depending on the length of time the dog was barking), reinforce the dog for the quiet behavior. The longer the dog barks, the longer the quiet behavior should be. Reinforce too soon after five minutes of barking and that will be what you'll get more of.
If you give in and respond to the dog's barking after, let's say, three minutes, then you've just reinforced three minutes of barking. If you then try again and blow your cool after 10 minutes, you've now reinforced 10 minutes of barking. You get the picture.
You can set the dog up not to bark. Let's say when you walk into the vet's office, your dog barks. So stop him from barking before you get to the door. Keep his focus on you by using treats as you walk up to the door. (Practice your door etiquette beforehand.) As soon as you're both in the door, reengage his focus and heavily reward him for paying attention to you. Keep him busy with silly pet tricks while you're in the waiting room.
No matter the situation, as long as you know your dog will react, set him up to be quiet. If he barks in crowds, stay farther away and reinforce quiet behaviors. If he barks at kids running, enlist the neighborhood kids to help you. Have them walk by slowly, reinforcing your dog for not barking. Then have them slowly jog by, then run by, and then maybe even add that ear-piercing scream that most kids know how to do, all the while reinforcing your dog for quiet behaviors.
Start these progressions at a large distance and then gradually decrease the distance. If at any time your dog barks, do not reinforce him by comforting him, yelling at him, or jerking the leash. Just wait until he calms down for at least five seconds, give him something else to do, and then reinforce for quiet behaviors.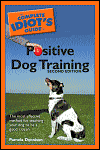 Excerpted from The Complete Idiot's Guide to Positive Dog Training © 2005 by Pamela Dennison. All rights reserved including the right of reproduction in whole or in part in any form. Used by arrangement with Alpha Books, a member of Penguin Group (USA) Inc.
To order this book visit the Idiot's Guide web site or call 1-800-253-6476.